Stairlifts Harrisburg
Do you struggle with steps and own a home with more than one floor? Stairs can prove to be dangerous to many as they experience mobility challenges or unsteadiness due to various medical conditions or aging. However, stairlifts can help make sure your home is more accessible by removing the mobility challenges that stairs present! Accessibility Solutions 360 is proud to install stairlifts for Harrisburg homes. Whether you have a straight or curved staircase, need an interior or exterior stairlift, have single landings or multiple – we have the perfect stairlift for you!
Stairlifts restore a level of independence for many with mobility challenges, allowing them to comfortably remain at home as they age without the constant presence of a caretaker. We understand that installing a stairlift can seem like a huge decision, which is why we work hard to make who you should hire to install it simple. At Accessibility Solutions 360, we can come to your home and help you decide which stairlift model will be the best fit during our free, no-obligation in-home assessment! We work with 5 major stairlift manufacturers, so we know that we will be able to find the right fit for you.
We are honored to be part of your journey to accessibility. Give us a call today to learn more about the products we work with and the services we offer!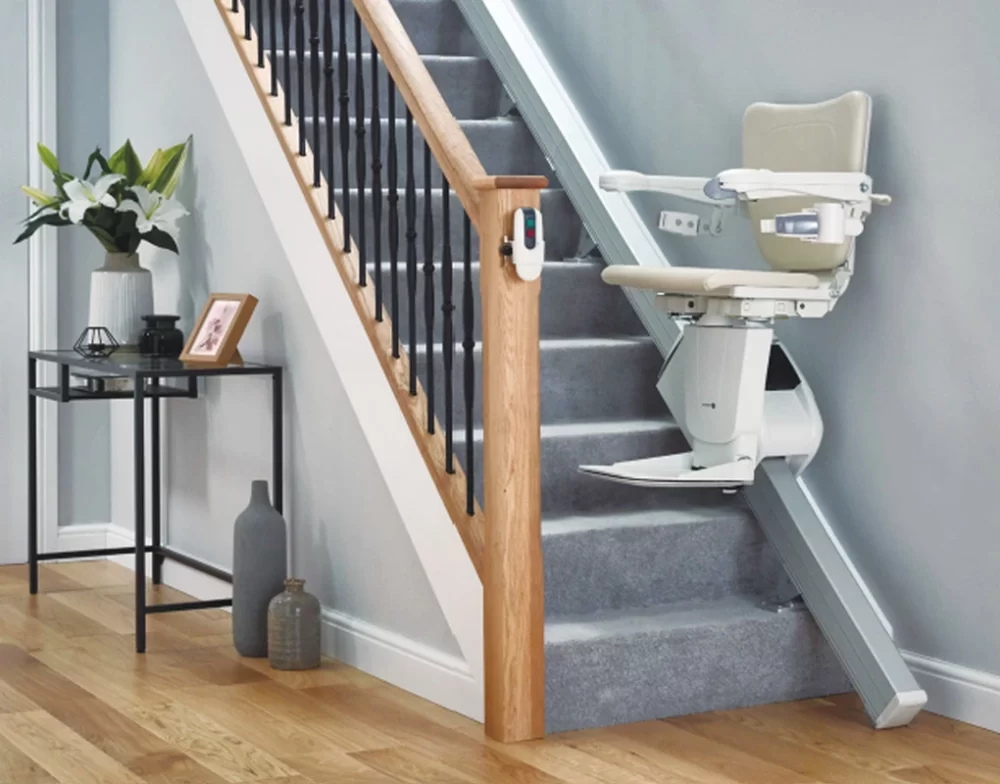 Choose Accessibility Solutions 360 for Stairlifts
When you choose Accessibility Solutions 360, you get more than just the run-of-the-mill home modifications company. You get a company who cares and works hard to ensure that each person we work with can feel safe in their own home.
We also understand that, sometimes, you just can't wait for accessibility. That's why we are proud to offer our Rapid Access Stairlift Program! If you qualify for our Rapid Access Program, we can have a stairlift installed within 3 business days!
Accessibility Solutions 360 is located in Millerstown, PA, and is a fully licensed and insured division of BCE Construction. We proudly serve most of Pennsylvania in reliable, trustworthy modification and installation services.
We are experts in aging-in-place and are proud to be a full-service accessibility company. Not only can we install your new stairlift, platform lift or home elevator, but we can also handle any additional construction needs to ensure that your home is safe and accessible. Whether you need additional outlets to power your new stairlift or your stairs need to be widened to accommodate, we can do it all.
No matter what accessibility challenges you face at home, we can help. Give us a call today to learn more!
Contact Us About Stairlifts
Regain access to any floor with a new stairlift in your Harrisburg home! If you are interested in learning more or scheduling your free in-home, no-obligation assessment – call Accessibility Solutions 360 today at 888-837-6818 or fill out our form online for a free estimate!