Do you have unanswered questions about stairlifts? Many people don't have the need to learn about stairlifts until they or one of their loved ones require one, making the process seem more foreign and intimidating. However, learning more about stairlifts should never be difficult.
Here at Accessibility Solutions 360, we care about both accessibility and education. That's why we have compiled a list of frequently asked questions about stairlifts in PA. If you still have questions or would like to talk with someone about having a stairlift installed, give us a call!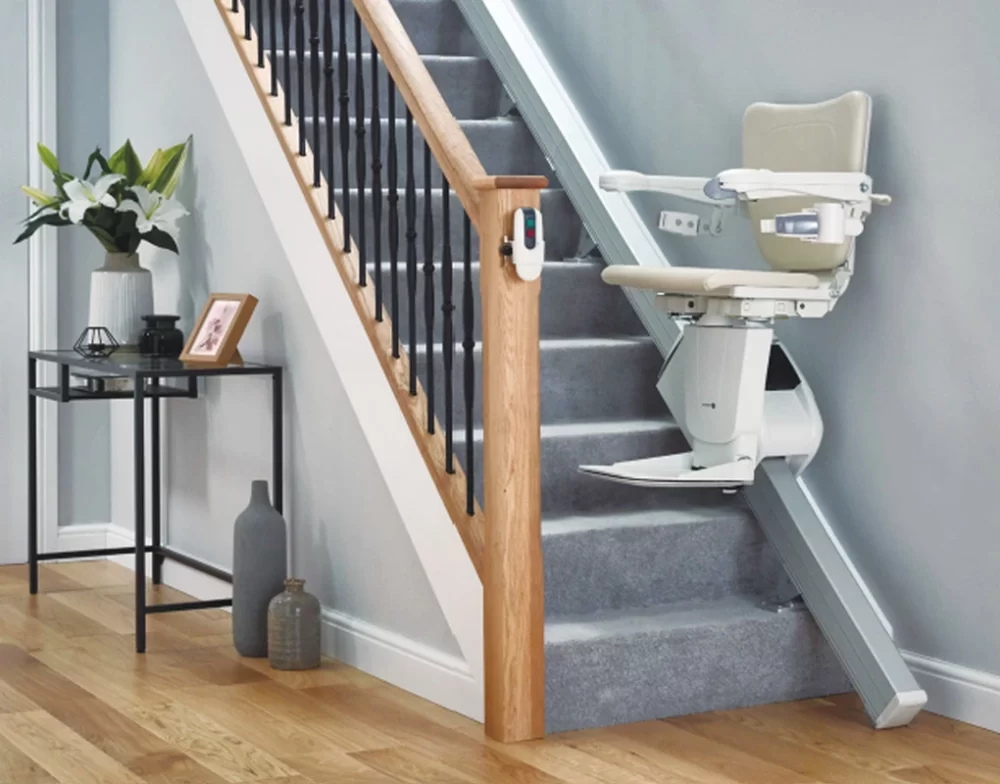 Are stairlifts safe?
Yes! Stairlifts are extremely safe when installed properly by a professional. Each of our contractors is fully trained and can ensure that your stairlift is safe and ready for use.
How much does a stairlift cost?
The price of a stairlift varies on the model and any customizations or special options you may choose.  We are happy to provide a free estimate for anyone interested.
How long will it take until my stairlift is installed?
While the installation process itself normally only requires a few hours at most, sometimes there can be weeks to months long wait times for the specific model of stairlift you may be interested in.
However, if you find that you can't wait for your stairlift, fill out our qualification form to see if you would be eligible for our Rapid Access Stairlift Program! With Rapid Access, we can get you a stairlift within 3 days.
How much weight can a stairlift hold?
We work with a range of manufacturers, so we offer stairlifts that can hold up to 600 lbs. However, not all stairlifts can support that weight, so there are different options depending on what weight requirements you require.
Why would I need a stairlift?
If you are struggling to walk up and down your steps – either after an accident, due to an illness, or as you age – then a stairlift may be the right choice for you! Stairlifts are available for people of all ages to help provide safer access between floors in a home.
Can insurance help me pay for a stairlift?
Depending on your insurance and need, yes. We currently work with:
PA Health & Wellness
UPMC
AmeriHealth/Keystone First
Life Geisinger
We also work with Medicaid and can help provide information on low interest loans or grant opportunities that may be available to you!
How fast does a stairlift go?
Stairlifts move at a fairly slow speed, allowing for a smooth, safe, and comfortable ride. They typically travel at a maximum speed of 0.34 mph.
How do I choose a stairlift?
There are a lot of factors that go into selecting the right stairlift. You will need to consider the stairs where you would like to install them (are they straight or curved? Inside or outside?). In addition to that, you will need to make sure that the stairlift you choose can support the weight of you or your loved one, while also offering any customizations you may need.
Choosing a stairlift can seem like a difficult process, however, we are happy to help you find the right model for your home and lifestyle.
How can I learn more about stairlifts?
If you find that you have questions after reading through these FAQs, then give us a call! We are more than happy to answer your questions or point you in the direction of resources that can help. Give Accessibility Solutions 360 a call today at (888) 837-6818 or contact us.